"I Could Use a Beach" Tour Kicks Off Multi-Island Debut Featuring Special Guest Tavana
HONOLULU, HI – Get ready to experience the ultimate summer vibe as Concert King Events brings rising star Claire Wright to the islands for three unforgettable performances. 
The "I Could Use a Beach" tour, featuring special guest Tavana, will take listeners on a journey filled with sunshine vibes, soulful tunes, and unforgettable moments at three iconic island venues. 
Claire Wright, a rising star in the music industry, has been captivating audiences with her soulful voice and catchy tunes. Fans can expect to hear hits like "New Day,"  "Slice of Sunshine" and the tour's namesake "I Could Use a Beach."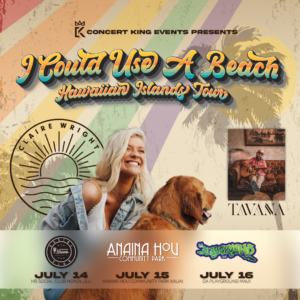 "There are not many artists that have the range between genres that Claire Wright has. From country to reggae, Claire's voice, sunshine vibes, and beachy tunes will take you on a journey you will not forget," said Concert King Events CEO Brenden Clement.
Joining Claire on tour is Tavana, a multi-talented musician known for his fusion of blues, rock, and reggae. Together, Claire and Tavana are a powerhouse duo, sure to deliver unforgettable performances at each tour stop.
The tour kicks off at HB Social Club in Honolulu on Friday, July 14; followed by another performance at Anaina Hou Community Park in Kauai on July 15, and ending at the iconic Maui venue da Playground on Sunday, July 16. 
Tickets are now on sale. Don't miss your chance to experience the best live music in Hawaii this summer!